In Memory of John Forlini
1921 - 2000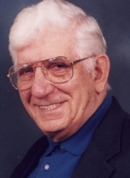 Thanks for visiting this web page and joining us in paying our respects.
Welcome to www.JohnForlini.com!
Honor Guard loads LTC John Forlini's casket upon the caisson which will take him to his final resting site
Photo taken by Lou Forlini
Buon Natale!
Tom and Walter Forlini place a wreath during the Wreaths Across America visit to Arlington National Cemetery
December 14, 2013
---
My family and I would like to thank you for visiting this online tribute to my father, John Forlini. We would also like to thank you for all your support and well wishes during over the years. My father truly did have many, many wonderful friends.
Walter Forlini
July 28, 2018
---
Have you signed the guestbook?
We invite you to visit our Guestbook and Remembrances page.
---
Links
Transcript of John Forlini's eulogy
John's Photo Album
Photos from the funeral service
John Forlini's Bronze Star and Service Medals
Guestbook & Remembrances (Latest entry: )
Death Notice from The Washington Post
Louise Forlini Memorial Page
Arlington National Cemetery web site
---
You are visitor