On Aug 27th, 1954, John B. Forlini was awarded the Bronze Star for "Meritorious Achievement in Ground Operations Against the Enemy", Korea, 1 June 1953 - 28 February 1954.

The citation for the medal reads in part:
"Demonstrating aggressiveness, sound judgment and rare technical skill, Captain FORLINI competently accomplished his highly important assignments despite extreme difficulties imposed by the language barrier, hazardous and hostile terrain and complex logistical problems. His superior leadership and composure under direct observation and fire from the enemy instilled confidence and inspiration to the men with whom he served."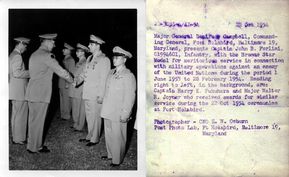 The award ceremony took place at Fort Holabird, MD, on Oct 22, 1954. (Click photo for full size image)
Photo: CWO E.W. Osburn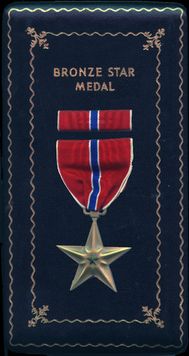 Bronze Star (with case) awarded to John B. Forlini.
Image: Lou Forlini
You can read more about the Bronze Star medal here.